On 5th June, World Environment Day, Green Fuels reaffirmed its support to the city of Juiz de Fora, Minas Gerais, Brazil, and its commitment to sustainable development. The city's 2030 Agenda supports the United Nations Sustainable Development Goals (SDGs) and Race to Zero. Through this public announcement, that also included, among others, Margarida Salomão, Mayor of Juiz de Fora, Lucas Brown, British Consul in Belo Horizonte and Pedro Scorza, Senior Consultant for Alternative Fuels and Sustainability at GOL Linhas Aéreas SA and Aviation Renewables Director at Ubrabio (Brazilian Biodiesel and Biokerosene Union) Green Fuels confirmed its commitment in line with the UK Government's "Great for Partnership" initiative in the state and country.
Among the ongoing projects underpinning the city's 2030 Agenda is the Plataforma de Bioquerosene e Renováveis da Zona da Mata (Zona da Mata Biokerosene and Renewables Platform). As a key part of this Platform, Green Fuels is the biofuels refining technology provider and anchor partner for the recently-established CIEP TEC Norte research centre of the Federal University of Juiz de Fora (UFJF). This ground-breaking public-private partnership (PPP) brings together the city and surrounding municipalities in the Zona da Mata region, as well as national and international partners from both the public and private sectors.
The Zona da Mata Platform aims to promote recovery of the Mata Atlântica biome and replenishment of depleted aquifers by reforesting degraded land and pasture This will stimulate sustainable family farming and local food production while establishing the municipality as a national hub for renewable energy, including biodiesel and sustainable aviation fuel (SAF). Use of sustainable feedstock such as used cooking oils from the city and surrounding municipalities, animal fats and macaúba oil – which when used as the staple agricultural feedstock provides a sustainable second-tier income for small family farmers – will be a fundamental principle of the project. This is exemplified by Green Fuels' partners Viveiro Nativo/INOCAS, also signatories to the initiative with an award-winning sustainable business model.
Marking the occasion, Mayor Salomão commented, "In the city of Juiz de Fora, this government is prioritising ecological transition.  This connects us with the UN agenda for 2030, according to which we must create the conditions for a more balanced world, with more respect for the environment and our natural resources, the very axis of our government programme.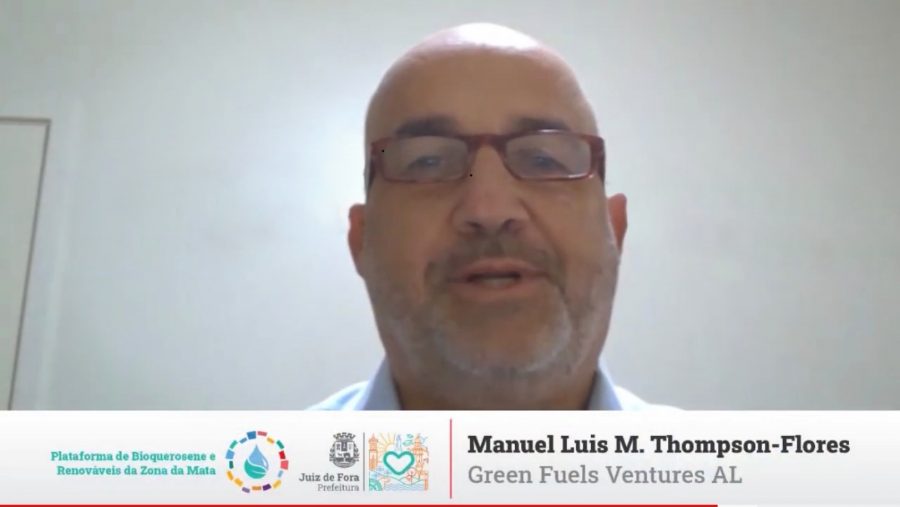 In his remarks to the audience, Pedro Scorza said, "Since the beginning of the Platform concept's development GOL has followed and participated actively in it, initially as a source of renewable kerosene for our operations, but much greater than that, as a sustainable economy differential for the Zona da Mata region. As a fundamental principle of the company's decarbonisation initiatives, GOL will contribute significantly to carbon fixing through reforestation and continue as an offtaker of the refined sustainable fuel. 
Responding, Manuel Luis Thompson-Flôres, CEO of Green Fuels Ventures América Latina, said, "On this World Environment Day, I wish to congratulate the City of Juiz de Fora on its good governance and sustainability initiatives like the Plataforma de Bioquerosene e Renováveis da Zona da Mata, which serve as a spearhead for the state, country and all Latin America." We at Green Fuels are proud to be associated with GOL Linhas Aéreas decarbonisation efforts through its carbon sink and offtake commitment to the Platform.
Further information:
Manuel Luis Thompson-Flôres, CEO, Green Fuels Ventures América Latina
manuel.tf@greenfuelsdobrasil.com
+55 21 99999 6681
Julian Beach, Business Development Director, Green Fuels Ltd
+44 7715 674087
About Green Fuels
Green Fuels is a pioneer in renewable fuels. Founded in 2003, Green Fuels has supplied biofuel equipment with aggregate capacity equating to $500bn in fuel sales to customers in more than 80 countries. Identifying aviation and marine as strategic fuel markets of the future, Green Fuels Research was established in 2014 to develop IP in these areas. The group has attracted $16m in direct and indirect research grant funding to date, with R&D facilities in Berkeley, Gloucestershire.
Green Fuels was awarded a Royal Warrant of Appointment to HRH the Prince of Wales in 2013 and has participated in many pioneering events in its field including the first 100% biofuel-powered jet flight and the first 100% biofuel-powered train.
Green Fuels is headquartered in Gloucestershire, UK, with offices in London, Mumbai and Rio de Janeiro.